Is it still worth buying a Seiko SKX007?
The Seiko SKX007 is a legend. We love the classic looks of the SKX007, and it is one of the key reasons why we started selling Seiko modification parts in the first place. We love the SKX series, and it just takes a minute on our website to see how much we offer Seiko-modding aficionados.
A decade ago, if you wanted a no-frills diver watch that is as tough as nails and can dive as deep as most people would ever need or want to, the Seiko SKX line was the clear choice to make.
Of course, a decade ago, you could've bought a SKX from an authorized dealer for less than $200 USD, and and you can rely on the authenticity of it. Today, this isn't the case, and it feels like it's getting harder to argue the SKX007 (or the SKX009) as a value proposition.
Seiko isn't making the SKX007 anymore, and so it has become something of a beginner's collector's item. In addition, a slew of fake SKX's has hit the market. Some of these fakes are rubbish, but some of the higher quality replicas are actually scarily convincing.
Above: The classic SKX007 we love. (Source: Hodinkee)
Due to the dwindling supply in the market, a new SKX could cost you approximately USD400 from a reputable dealer, at the time of publishing this article.
The SKX was never meant to be a luxury or "premium" watch, and because it uses an inexpensive movement paired with utilitarian parts, making fake SKX's is simple for replica manufacturers that have been creating fake Swiss-branded watches for years.
Seiko Forgot to Give the SKX007 a Lineage
Many, many Seiko fans (us included) have asked – Why didn't Seiko just update the SKX? All they needed to do was perhaps to update the movement, and we're sure many hardcore SKX fans would have been satisfied.
For whatever reason, Seiko hasn't left us with a successor to the SKX007, and the current offerings from Seiko just don't seem to check the boxes that the SKX line did.
While there are some great models that have followed the SKX, many diehard fans have been left without a viable OEM SKX heir in their watch box.
That said, let's take a look at some of the potential alternatives to the SKX that you might want to consider.
The 5KX (SRPD Seiko 5 Sports) Line
For anyone that wants a Seiko that looks a lot like the classic SKX, the SRPD Seiko 5 Sports series, also known in the Seikosphere as the 5KX, is a great option. While Seiko kept the Hardlex crystal and aluminium bezel, it opted to offer the 5KX in a wide range of styles and a far superior movement.
Above: If you're looking for something classic, try 5KX! (Source: TBWS)
The 5KX uses the 4R36 movement, which is a massive upgrade over the archaic 7S26 that the SKX packed. This is no small matter, and is a big leap forward in terms of both functionality and value.
4Rs hack and hand-wind, and in many cases, perform along the lines of a COSC certified movement out of the box (this isn't going to happen every time, but if you look around the web, you will find shining reviews of the 4R36's accuracy).
Above: 4R36 Movement on the 5kx. (Source: TBWS)
Another huge bonus is that the 5KX is very affordable. The Seiko 5 lineup is intended to be a great value proposition, and the 5KX is no exception. You can find one on the gray market for less than $300 USD.
The 5KX also sports a display caseback, so you can see that sweet 4R36 working away in your Seiko. On the downside, the SRPD line is only water resistant to 100 meters, and has a push/pull crown, which has been a major disappointment to anyone who actually wants a legit dive watch.
Overall, the 5KX looks almost exactly like a SKX, and for anyone who is looking for a desk diver, this is actually an amazing product from Seiko. It also takes many of the aftermarket parts we sell, (we covered the compatibility of SKX007 parts with the SRPD Seiko 5 Sports in this article) so if you want a ceramic bezel insert, or sapphire glass, we have you covered.
Just don't come looking for a screw down crown – or ever think about strapping a 5KX over a wetsuit. At the end of the day, the 5KX is definitely more of a dive STYLE watch, versus its ISO certified 200m water-resistant brother, the SKX007. And that, unfortunately, is a dealbreaker for some.
Seiko Mini Turtle (SRPC/SPDY) Line
The Seiko SRPC line, otherwise known as the Mini Turtle, uses a 4R35 movement, which is a clear upgrade to the SKX, although it has no day display, just the date.
Above: The Mini Turtle - another Seiko watch with similar performance to the classic SKX. (Source: tds-melbourne on Reddit)
Once you look at the watch itself, it is very clear that while Seiko delivered similar (or arguably better) performance in the Mini Turtle, the design of the watch is radically different.
The Mini Turtle is clearly a smaller version of the current Turtle diver (which we will touch on below) that has been scaled down, and given some unique design features. Like the SKX, it is Diver's rated to 200 meters, which is great. 
Unlike the SKX, the case is built to look like either the classic Seiko diver cases of the 1970's or the modern Turtle. The crown has been moved up to the 3 o'clock position, and overall, it simply looks like a modern interpretation of a classic Seiko cushion case watch. 
It doesn't look, however, like a SKX in any way. It is also not well supported in the aftermarket, as the Mini Turtle isn't nearly as popular as the SKX. The Mini Turtle is also not a budget option, as most dealers will ask more than $400 USD for a new one. Is this the SKX successor? We personally don't think it deserves that title.
The Seiko Sea Urchin (SNZF series)
Make no mistake, the Seiko SNZF series, otherwise known as the Sea Urchin, is a fantastic deal on a watch that looks a lot like a diver's watch. In some cases, the Sea Urchin can be had for less than $200, and it packs a lot of value into a well made Seiko case.
Much like the 5KX, the Sea Urchin is from the Seiko 5 series. It also shares 100 meters of water resistance with the 5KX, which makes it a very poor choice for anyone that wants to actually use their watch to dive in the ocean. Perfect for desk diving though, which is what 99% of us will be doing anyways 😉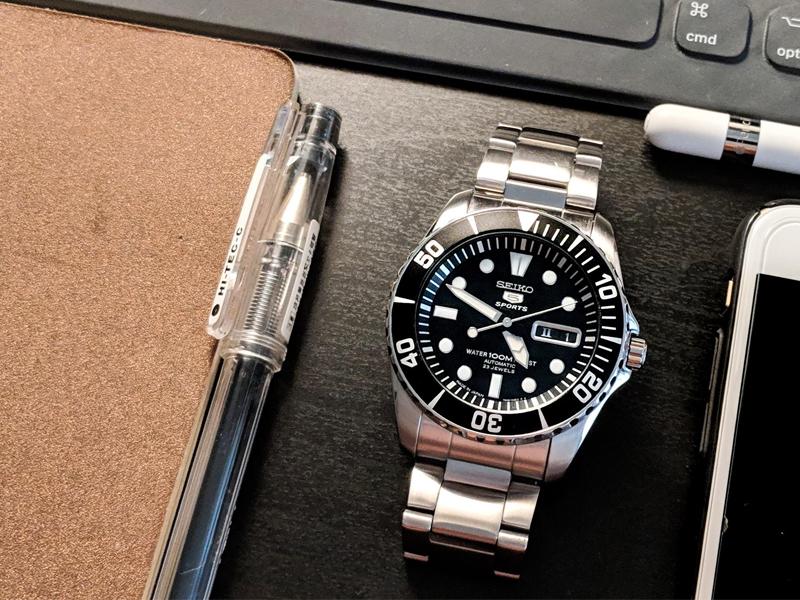 Above: The Sea Urchin is a versatile watch for daily-wear with its classic looks. (Source: TWC)
From a visual perspective, the Sea Urchin looks a lot more like a Rolex Submariner than anything from the classic Seiko lineup although there are some Samurai vibes in play.
Like the SKX, it uses a 7S series movement. In this case, it has a 7S36, which is essentially the same as the 7S26 as far as performance goes. That means that it neither hacks nor hand-winds, although it does pack two extra jewels over the 7S26, which may be nice to tell your friends about if they are into lowering friction in mechanical watch movements.
It has a classic look, featuring a crown in the 3 o'clock position, and a very clean looking dial and bezel insert.
One look at the Sea Urchin will let you know why many people see it as a Poor Man's Seikomariner (Seiko's answer to the Submariner). It has a classic look, featuring a crown in the 3 o'clock position, and a very clean looking dial and bezel insert. As a watch – it is a great value!
However, it isn't especially unique.
If you need a versatile watch you plan to wear on a daily basis, the Sea Urchin could be a good buy. Like the Mini Turtle, the Sea Urchin doesn't have AS much of a following in the aftermarket community compared to the SKX007, so unless you like the OEM look of the designs that Seiko offers, you might want to stay away from this model.
New Seiko Turtle (SRP/C) Line
The Seiko SRP line, also called the Turtle, is a throwback to the classic cushion shaped Seiko diver's watches of the 1970's (the 6306-7000/1 was the first – but there were many).

Above: The Seiko Prospex King Turtle SRPE03 & SRPE05. (Source: Monochrome)
The SRP line does have a crown at 4 o'clock, and the iconic Seiko diver hands, but otherwise, it bears little resemblance to the SKX.
Today, the SRP is as close as you can get to an OEM budget Seiko diver, and if you want a watch that is a spiritual replacement to the SKX, this is your only real choice. The SRP line does have a crown at 4 o'clock, and the iconic Seiko diver hands, but otherwise, it bears little resemblance to the SKX.
That said, if you want a working diver's watch from Seiko, and you don't want to spend a pile of money on it, the SRP or Mini Turtle are your best options. Also, the SRP uses the 4R36 movement, which is a great upgrade over the SKX's stock movement.
There's also a decent variety of aftermarket parts for the Seiko Turtle, but the options pale in comparison to that of the SKX007.
It MIGHT be Better to Build a SKX From Scratch
At its finest, the Seiko SKX007 was a great budget diver's watch. It never tried to compete in terms of materials, and was always a go-to watch for anyone that needed a quality watch that would work for years without any issues.
The problem today is that at $400+ USD, the SKX seems expensive. If you are buying for its collectability, that could make sense. Be sure to keep it in a safe place – and never wear it outside of your home if that's what you want out of your SKX.
For anyone that wants a SKX style watch that is made to be used, it makes a lot more sense to build one. 
For anyone that wants a SKX style watch that is made to be used, it makes a lot more sense to build one. The SKX was never meant to sit in your watch box - it's supposed to be a reliable daily beater. In fact, if you spend the same $400 USD on a set of high quality watch parts with us, you will come away with a watch that has a better movement, sapphire crystal, and a ceramic bezel insert.
Above: Stealth SKX mod. Not into it? We have many other options available. (Source: jslreview)
If this is the first time you have thought about building a SKX, have a look here. The truth is that when it comes to delivering the latest materials, like sapphire glass, you have to spend a lot more money if you want to buy from Seiko. It's well known that Seiko only reserves sapphire crystal for it's higher end models -- even the Marinemaster comes with a Hardlex mineral crystal! At that kind of price point, 
Should you Build Your Own SKX?
With the rising prices of SKX models – it makes a lot of sense to build your own from the ground up.
With the rising prices of SKX models – it might make sense to build your own take on the  watch, from the ground up. If you take a look through our massive selection of SKX parts, you will see that we can help you make a SKX-style watch in just about any style you could want.
In fact, we recently introduced titanium SKX cases, which are based on the classic SKX007 (7s26-0020) case shape. Of course, this new case can be used with any of the SKX bezel inserts we make, and you can install whatever kind of crystal you like (we recommend our sapphire crystals for that extra premium touch!).

Above: Our new titanium case for your mods! (Source: JT)
Our cases also are fully compatible with OEM parts, so if you want to install a stock SKX dial and bezel insert, that isn't an issue. Most people would use a NH36 movement if they want both the day and date complications, but depending on the dial that you're using, the date-only NH35 movement may be suitable as well.
We also offer PVD coated SKX cases, as well as gold plated SKX cases, which can be matched with any parts you want to create an extremely unique looking SKX style watch. The permutations and options are truly endless - the only limit is your creativity when it comes to watch modding.
namokiMODS is here to help you get the most for your money, and create a SKX style watch that lives up to your expectations, not only for quality, but also for value. If you'd like to explore this option, have a look at all the SKX compatible watch parts we offer, and think about what would make sense for your needs.